Welcome to the world of Ethnographics, Folkart and Tribal Art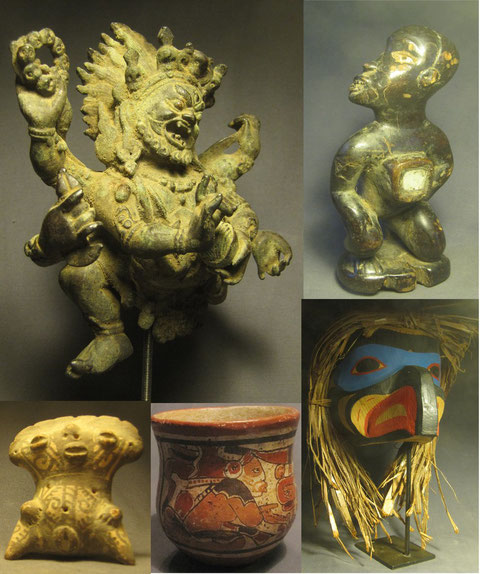 Ethno Arts
My passion for Ethnic groups started at an early age by reading and collecting items to broaden my worldview. In the '80's i was president of the Studycentre for Native Americans and later became a full-time teacher in Anthropology. On regular basis i travel to the Americas and Asia, not only for collecting items but also supporting small local projects. When selling arts, crafts, ethnograpics or folk art, i always make sure to support local projects in the country of origin.
About me
I am journalist and professor at the Faculty for the Study of Comparative Religions where i teach Native American Culture, Cultural Anthropology, Religious Communication and Shamanism.
Besides teaching, i am the chairman of the Native American Studies Department and the Head chief of the Religious Ethnographic Arts Department and responsable for organizing exhibitions on religious topics.
www.RKEvzw.org - www.tribalartsfair.com

References
Studyprojetcs and Field Work in the USA since 1982
TV Documentary on Alabama (USA) Natives - Vossenstreken VTM 1990
Field Work among ethnic groups (Thailand, 2001 - Vietnam, 2006 - China 2006, till current 
Educational days and programs for high schools since 1982
Lectures since 1989 for educational organisations ex. Elckerlic (Turnhout, Antwerpen), Lodewijk de Raet (Antwerpen)
Archeology Research - SUNY & Iroquois Arch. Dept. Schoharie County, N.Y., USA
Miao Research, 2007-2008, 2010-2011 Guizhou, Yunnan, China.
Publication and exhibitions
Publications in journals, reviews and interviews for the media
Indianen voor Noord-Amerika (catalogus), Stadsbestuur Sint-Niklaas en US Embassy, 1985
Indian Summer (catalogus), KMKG 1999-2000
Indios y esquimales, Culturas indigenos de Norte américa, "La Caixa", Barcelona, 2001
Ceremonial Paintings from the Yao
When Masks talk
The Dragon Bridge
Goden op Doek
Religious Life among the Minorty Groups of China
Quatolauk, Andre Vermaut, a priest among the Inuit of Paulatuk
Ethnic Arts from Arctic Regions
The Magic of the Mask
                                                                                                                                                            Ernie Vonck
Antwerp, 2015
Exhbitions
travel impressions - Slideshow